The Election Results won't be able to fix the Technochasm. That's the term from the macro specialist, Eric Fry, to describe the vast and widening wealth gap that's taking place in America. Much of this gap can be attributed to investment wealth from cutting edge technologies.
---
— RECOMMENDED —
America's #1 Stock Picker Reveals Next 1,000% Winner (free)
He's found 40 1,000% or higher stock market winners.
He beat 650 of the world's most famous investors (including Bill Ackman and David Einhorn) in a trading contest.
And today, he's revealing the critical top trend to watch and his next potential 1,000% winner for free, right here.
No credit card, email address, or subscription required.
---
Now that we're past Election Day, it's easy to forget that in the run-up to November 3 the stimulus talks between the White House and Congress fell apart, sending the stock market into a short-lived correction.
On October 6, President Trump told Senate Majority Leader Mitch McConnell to forget stimulus for the time being. "Our Economy is doing very well," he tweeted. "The Stock Market is at record levels, JOBS and unemployment also coming back in record numbers."
That echoed the message Larry Kudlow, director of the National Economic Council, has been peddling to downplay the necessity of a fourth round of stimulus. "A rising tide lifted all boats," Kudlow said on Fox Business in late August.
Indeed, there's been a lot to celebrate recently.
Despite the overall high unemployment level, high-wage employment has grown this year.
In the housing market, sales are at a 14-year peak and home values are at an all-time high.
And over on Wall Street, the S&P 500 has nearly regained its early-year losses … and the third-quarter earnings season looks to boost those gains considerably higher.
That sounds a lot like a V-shaped economic recovery.
Yet … since the pandemic began, more than 100,000 small businesses have closed.
Low-wage employment is down 15%, and around 1 in 10 Americans are drawing unemployment payments.
The Center on Budget and Policy Priorities estimates that 13 million families are behind on their rent.
In other words, while Wall Street and Silicon Valley are doing great, small businesses and Main Street are treading water at best … and tens of millions of Americans are falling behind.
It's the "Technochasm" writ large.
Whether Joe Biden or Trump wins, maybe in his first 100 days, the newly elected president will set in motion policies that will slow the pandemic … fix the nation's crumbling infrastructure … and put millions of Americans back to work.
And maybe those moves will "save" folks caught on the wrong side of the Technochasm.
But I doubt it. I long ago gave up on believing that any politician can stop the Technochasm from growing.
There's only one way anyone can make sure they don't get left behind as Big Tech roars ahead.
Let's talk about it …
---
— RECOMMENDED —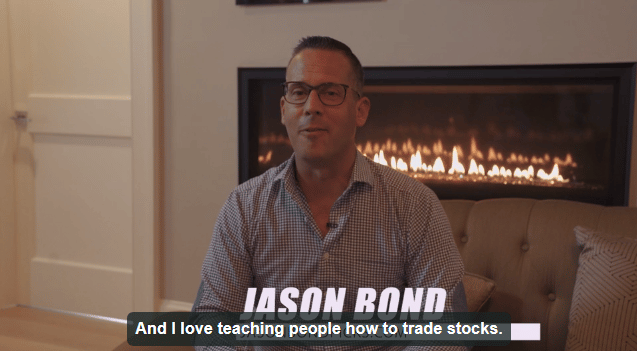 That's All I Use Every Day to Locate My Favorite Opportunities. Learn Them Here!
Reserve Your FREE Virtual Seat To Jason Bond's Exclusive Stock Trading Masterclass Here
---
The Two Americas Grow Wider Apart
In early October, we saw two big pieces of data that explicitly demonstrated these two Americas.
According to new U.S. Federal Reserve data, the American wealth gap widened during the pandemic. The top 1% of U.S. households now have a combined net worth of $34.2 trillion, while the bottom half holds just $2.1 trillion.
That means the top 1% holds 15 times more wealth than the bottom 50%.
Meanwhile, according to a new study from Swiss bank UBS and accounting firm PwC, the total wealth of the world's 2,189 billionaires soared to a record-setting high of $10.2 trillion in late July. The previous record of $8.9 trillion dates back to the end of 2017.
We've been seeing numbers like this for a long time — and they keep getting worse. In 1980, the richest 1% of Americans owned about 30% of all household wealth in the country … and the bottom 90% owned about 24% of all household wealth.
But by 2012, the share of all household financial wealth owned by the top 1% had skyrocketed to more than 60% … and the share owned by the bottom 90% had plummeted below 10%.
In other words, the middle class is shrinking as rich families and big businesses accumulate fortunes and others sink below the poverty line.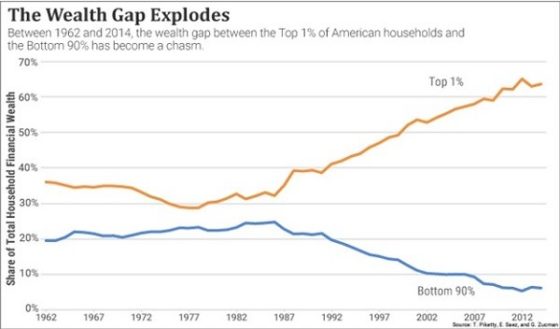 And as the recent data I just shared demonstrate, that gap … that Technochasm … is getting wider.
Back in March, many folks saw the coronavirus as an "equalizer."
We thought everyone was subject to this virus. It didn't matter how rich, powerful, or smart you were. Of course, that was not true.
With all things being equal, yes, the coronavirus does not discriminate. However, as we've been discussing here for several months, all things are far from equal.
While anyone can "get" the coronavirus, how it's hitting us varies widely among income levels.
Indeed, instead of being an "equalizer," COVID-19 keeps hitting people on the wrong side of the wealth gap especially hard.
High-income white-collar folks are working from home with little more than a laptop and an internet connections. And they're hiring tutors to teach their kids individually or in small pods.
Working-class truck drivers, nurses and health aides, and grocery store and warehouse clerks, on the other hand, are front-line troops in the war against COVID-19.
Tech companies, grocery stores, and home-improvement chains are rising. Restaurants, hotels, and airlines are basically collapsing.
That said, I believe we will beat COVID-19, with or without the help of whomever wins the White House.
The economy will recover. Most people will get back to work.
But longer term, the wealth gap and the Technochasm will keep leaving many of us behind …
---
— RECOMMENDED —
How To Find Extremely Profitable Trades
Every Monday, Kyle Dennis releases his highest-conviction trade idea for the week.
Learn how to receive Kyle's next Fast 5 Trade Here
---
How Not to Get Left Behind
That's because many companies will prepare for the next global pandemic by shifting more of their processes to automation, robots, and/or artificial intelligence, rather than human beings.
In other words, as people keep losing their jobs due to technology … that technology in and of itself will work to make the wealth gap bigger.
That, again, is the "Technochasm."
However, you can act now in order to make sure you and your portfolio are on the right side of the Technochasm.
Each one of a nexus of several cutting-edge technologies, like artificial intelligence, autonomous driving, and the Internet of Things, all enabled by the coming 5G revolution, will produce trillions of dollars' worth of commercial activity over the coming decade. That will enrich both entrepreneurs and investors along the way.
But as we've been discussing, powerful technology trends like these are not new news. For many years already, sweeping technological innovation, proceeding at an exponential pace, has been creating a long list of economic winners … and losers.
And the stock market clearly reflects this phenomenon.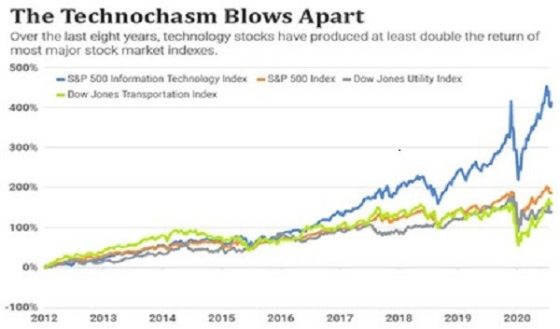 During the last eight years, for example, the S&P 500 Information Technology Index has delivered a total return of more than 400%. That is double the gains of the entire S&P 500 over the same time frame.
In fact, the technology sector's outperformance over this time frame was much better than just a double. Excluding tech stocks, the S&P 500 Index produced a gain of just 117% during the last eight years — or barely one quarter the gains of the S&P's tech stocks.
The lesson is clear: Tech stocks have been trouncing the overall market.
That's why I recently brought along a film crew to produce a special video presentation so I could show you exactly what's going on … why this is so important … and how to shift your portfolio to take full advantage.
Take a minute or two to check it out on our website, here …